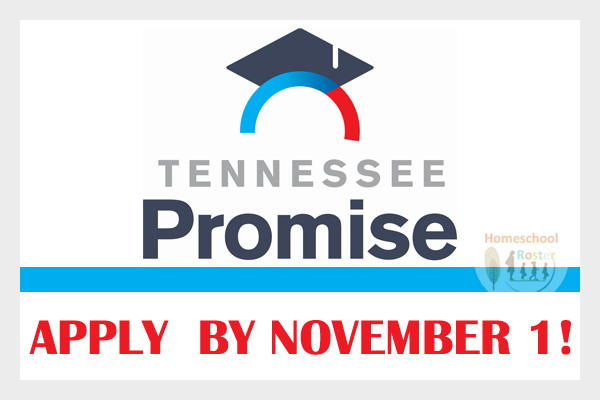 The clock is ticking towards the last day to complete the TN Promise scholarship application for students entering college in the fall of 2020. November 1 at 11:59 p.m. are the date and time deadlines. Has your graduating high school senior completed the application? If not, get it done!
The TN Promise scholarship (last-dollar scholarship) provides students with free tuition to attend more than 40 community and technical colleges, and some four-year institutions that offer associates degrees in Tennessee. Thousands of students have taken advantage of this opportunity of "free college" since the scholarship was introduced for the fall class of 2015.
My Child Isn't Going to College!
If you have a child with plans other than college, still complete the application. Applying does not obligate a student to attend college, but does ensure they do not miss the opportunity for free tuition if they later change their mind and want to attend. College is expensive. Don't leave money on the table.
Eligibility requirements to apply for the scholarship are the following:
TN resident
A student graduating from an eligible homeschool, high school or has earned a GED/HISET (prior to their 19th birthday).
Complete the TN Promise application by Friday, November 1, 2019.
Eligibility requirements to receive the scholarship are the following:
Attend mandatory team meetings (usually two).
Complete and report eight community service hours by Wednesday, July 1, 2020.
Complete the FAFSA application by Saturday, February 1, 2020.
Apply now for the TN Promise.
Do You Need Help?
Online: Live Chat
Telephone: Call (800) 342-1663
E-mail: write now
College Campus Tours
If college or attending a trade school is a plan for your high school student, join Homeschool Roster on one of its Discovering Your Destiny college campus tours. There are tours planned to several schools in West Tennessee that include Christian Brothers University, Freed-Hardeman University, Jackson State Community College, Lane College, Rhodes College, Southwest Tennessee Community College, TCAT-Jackson and the University of Memphis.

Join the Homeschool Roster – Get Out of the House group for college campus tour updates and to learn about other field trips and events for homeschoolers.
---
Don't miss a thing! Subscribe to the Homeschool Roster blog and get our articles in your inbox! Sign up for the Homeschool Roster newsletter.
©2019 Homeschool Roster. Article by Jennifer Smeltser. All rights reserved. All text, photographs, artwork and other content may not be reproduced or transmitted in any form without the written consent of the publisher https://www.homeschoolroster.com/.