This post may contain affiliate links. Please read my disclosure for more information.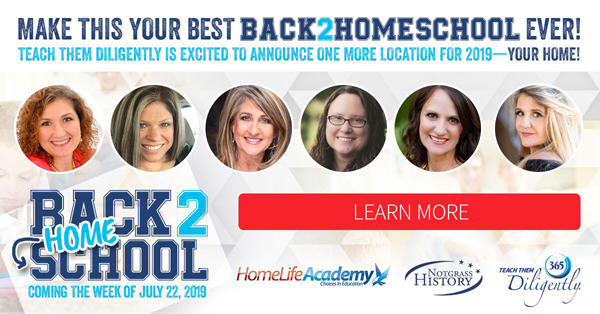 Are you in deep preparation for the beginning of school? Be sure you are ready by adding the Teach Them Diligently (TTD) first ever Back2Homeschool event, which will be held July 22 – July 26. The best part is you are able to attend the event online and from the comfort of your home!
TTD has been bringing us one of the best homeschool conventions, Teach Them Diligently, for more than five years to cities across the country. The keynote speakers have included such notable people as Voddie Baucham, Kirk Cameron and Heidi St. John. Other speakers have included some of our favorite blogging homeschool moms and veterans like Kim Sorgius, Carisa Hinson, Rebecca Spooner, Charlene Notgrass and more.
The Back2Homeschool event will not only include some of our favorite homeschool bloggers, but a long list of other notable people in the homeschool community. Also included are some local people, HomeLife Academy (HLA) counselors – Margie Abbitt, Diane Benson and Lani Carey. HLA is also one of the sponsors of the Back2Homeschool event.
Seating is whatever comfortable place you can find in your home (or take it on the road). Attire is pajamas or whatever you would like to wear. There is also no need to do your hair. Just make plans to attend.
Early-Bird Special Savings
Admission is only $25, but now through July 21, you can register with the $19 early-bird special. Access to hearing all of these people speak about their homeschool experiences, lessons they have learned and the tips they will share is a great value for the price. The Back2Homeschool event may provide the encouragement you need as you prepare to start another homeschool year.
Register now and save—>Back2Homeschool
---
Don't miss a thing! Subscribe to the Homeschool Roster blog and get our articles in your inbox! Sign up for the Homeschool Roster newsletter.
©2019 Homeschool Roster. Article by Jennifer Smeltser. All rights reserved. All text, photographs, artwork and other content may not be reproduced or transmitted in any form without the written consent of the publisher https://www.homeschoolroster.com/.