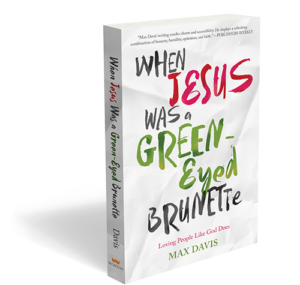 About the Book:
"When Jesus Was a Green-Eyed Brunette weaves heartwarming and miraculous stories of Jesus showing up in ordinary people, revealing that He knows us and is fully present in our everyday circumstances, especially in our difficulties. Those hurting and weary from worn-out religion are longing for a fresh touch from the living Jesus. Best-selling author Max Davis challenges us to do more than simply receive God's grace—we need to allow grace to soften, change and shape us. As you read this book you will laugh, cry and come face-to-face with the living Jesus, much like Davis did, when he found Him living in a green-eyed brunette. As Davis puts it, "Jesus is very much alive today and still does incredible things—sometimes supernatural things—through us!"
Max Davis has already written more than 20 books and adds When Jesus Was a Green-Eyed Brunette to his repertoire. The book is a compilation of stories where people, including Davis, have "met" Jesus in the most unexpected places. The experiences have led to their lives being transformed. The stories are not exclusive to joy and happiness, but rather show God at work and the miracles that result. Readers are presented with real-life stories that people have walked through. There is joy and happiness, but there are also tears and pain.
I think one chapter title expresses the fact very well. "Bleeding All Over the Pages", which comes with the warning: "Life without pain could really hurt you."
As Christians, our purpose in life is not for us, but rather to share Jesus and the words of God. The faith (or not) we maintain through our experiences – the good and the bad – speaks volumes to others. When it comes to pain, although difficult, we should not become consumed by it. As a foot soldier for Christ, we need to take our experiences and be a blessing to someone else going through that same hurt. Despite the cuts (i.e. pain) we experience in life, Jesus is always free to us to accept and God is always there; He never leaves us. In the same chapter, Davis shares a number of "cuts" he experienced. Some cuts he mentions are receiving the news his 13-month-old son was deaf, a divorce he never wanted, the loss of a pastoral position and several years struggling to stay above financial ruin. Davis, as do the others whose stories he tells, overcome trials, but are blessed by God, because they or someone else allowed themselves to be used by God. They were not consumed by their experience, but rather kept their focus on God.
My mama said, "Alanna has been your savior twice ib your life," Jesus is my Saviour, but I know what Mama means. The two times in my life when I was at a tipping point, God sent the green-eyed brunette to me."
The green-eyed brunette is his wife, Alanna.
Davis reminds readers to not discount or challenge the experiences we go through, but instead to allow God to carry us through and work through our lives. In that way we share the love of Jesus, bless others and truly please Him.
About the Author:
"Max Davis is the author of over 20 published books and has been featured in USA Today and Publishers Weekly and has appeared on The Today Show and The 700 Club. He holds degrees in Journalism and Biblical Studies and is a much sought-after speaker for churches and organizations worldwide. He and his wife, Alanna, live on 50 beautiful acres in Greenwell Springs, Louisiana."
When Jesus Was a Green-Eyed Brunette is available in paperback for $15.99.