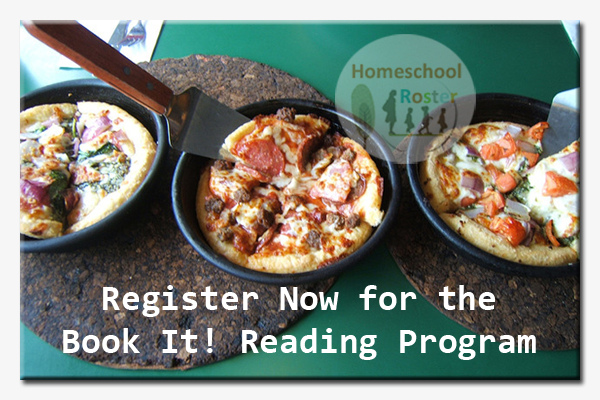 If you are looking for a creative way to encourage your children to read this school year, Pizza Hut just may have the answer for you. For more than 25 years, the Book It! reading program has been a unique tool in motivating young people to pick up a book and read by recognizing their reading accomplishments with a pizza.
The parent/teacher establishes monthly reading goals for each child that may be tailored to their reading ability. If a student is not yet reading independently, a parent or other reader may read to the child to help them achieve their goal. Once the child has achieved their reading goal at the end of the month, they are rewarded with a Reading Award Certificate that may be redeemed at any participating Pizza Hut restaurant for a personal pan pizza.
Participation is easy for parents/teachers who may enroll their children through their homeschool. All materials (ex: Reading Reward Certificates) for the program are provided for free to schools. The Book IT! program begins October 1 and ends March 31. Students must be in kindergarten through sixth grade to be eligible to participate. All participating kindergartners must be age five by September. The program is only open to schools (home, public and private schools) and not clubs, groups or organizations. All families must enroll individually.
Enrollments will be accepted through September 1 or until supplies run out. Register your homeschool today.
---
Don't miss a thing! Subscribe to the Homeschool Roster blog and get our articles in your inbox!
©2017 Homeschool Roster. Article by Jennifer Smeltser. All rights reserved. All text, photographs, artwork and other content may not be reproduced or transmitted in any form without the written consent of the publisher https://www.homeschoolroster.com/.