Youth Rally Focusing on the "Lie Behind Drug Use" to be Held in Somerville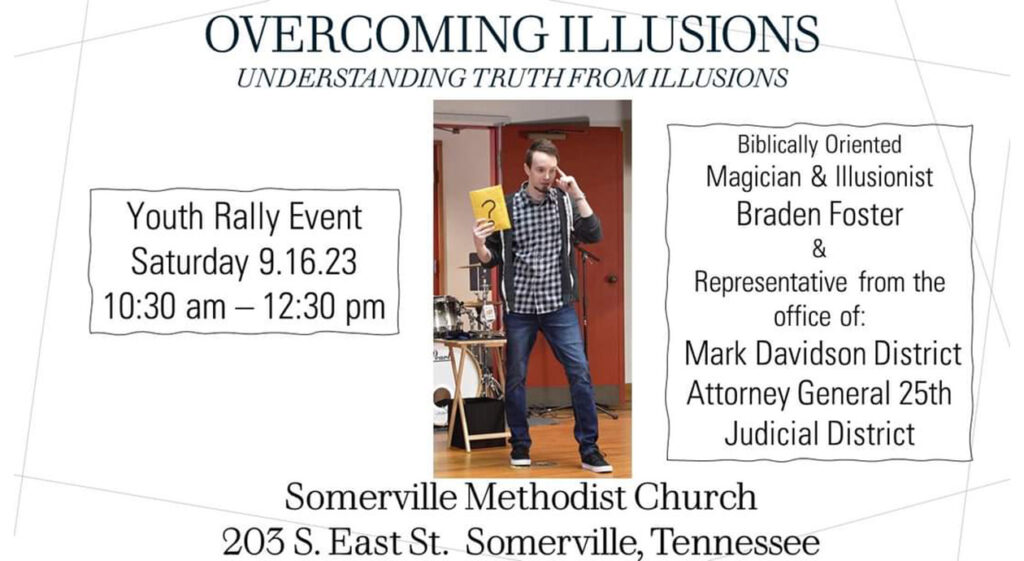 Somerville Methodist Church will host Overcoming Illusions: Understanding Truth from Illusions, a free Youth Rally on Saturday, September 16, 2023, at the church to educate youth about the choices they make regarding drug use. Featured speakers include Biblically oriented magician and illusionist Braden Foster and a representative from the office of Mark Davidson District Attorney General 25th Judicial District.
"The main objective of this project is to educate youth by giving them the tools and data they need to see the lie behind drug use," said Kim Gist, Somerville Methodist Church Director of Children and Youth Ministries. "The emphasis will be on breaking down the lies that surround the illegal drug scene, as it relates to the youth in our community."
Mark Davidson District Attorney General 25th Judicial District represents Fayette, Hardeman, Lauderdale, McNairy, and Tipton Counties. Youth from all five of those counties have been invited to attend the event. Because of the importance of the message, youth who live outside of those counties are also invited to attend the rally.
"In Tennessee, overdose deaths have increased at an annual rate of 8.49 percent over the last three years. There are confirmed cases of teen overdoses," said Gist, a homeschool mom who realizes the issue affects all youth regardless of how they are educated. "Our youth need to know and understand the truth, nothing good or positive comes from illegal drug use."
Mark Davidson's office will present information related to the drug problems in his district that are endangering youth and adults. Braden Foster will emphasize that there are many lies being spread concerning choices that youth are faced with today. His goal is to leave the audience inspired to follow the TRUTH.
---
Refreshments will be served, and registration is not required.
EVENT: Youth Rally Event
LOCATION: Somerville Methodist Church, 203 South East Street, Somerville, Tennessee (church gym)
DATE: Saturday, September 16, 2023
TIME: 10:30 a.m. to 12:30 p.m.
---
Check out our upcoming field trips and events.
Like and follow Homeschool Roster on Facebook.
Don't miss a thing! Subscribe to Homeschool Roster.